At least 20 killed, dozens injured by wildfires in Greece, authorities ask EU for help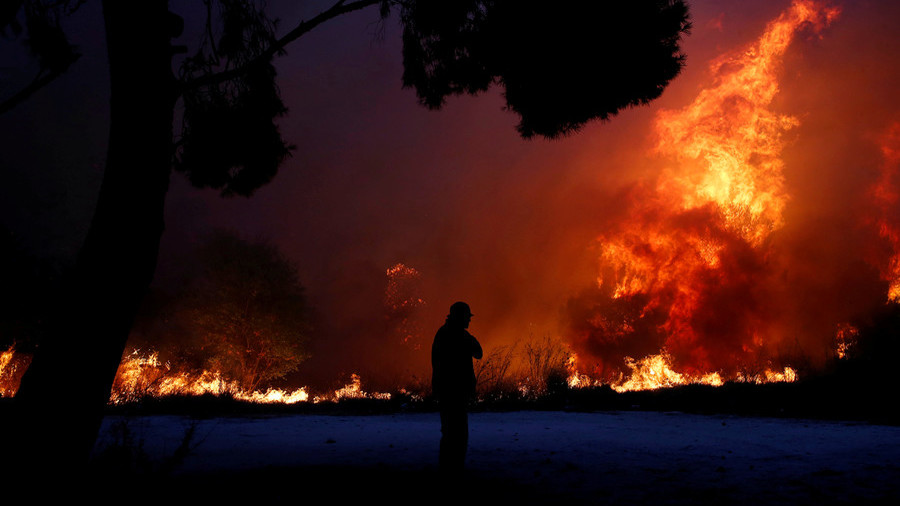 Multiple wildfires across Greece's Attica region have claimed the lives of at least 20 people. With dozens of others injured, authorities have warned of further casualties and pleaded for an EU-wide response.
"Unfortunately, the number of confirmed deaths currently exceeds 20, with another 88 adults injured, 11 of whom are in serious condition,"
the government spokesman, Dimitris Tzanakopoulos,
said
Tuesday morning, noting that at least 16 children are among those affected by the flames.
Reporting that at least 15 wildfires are simultaneously raging across three fronts of the Attic Peninsula, which encompasses the capital Athens, Tzanakopoulos warned of a "very difficult night" ahead given the combination of intense western winds.
After the first blaze broke out in a forest near the coastal settlement of Kineta, some 55 kilometers west of the capital, firefighters are yet to contain the wildfires across the peninsula. More than 300 firefighters, seven aircraft, and 10 helicopters are now mobilized to tackle the extremely difficult situation, Tzanakopoulos noted. Private boat operators are also helping the Coast Guard with the rescue.
According to Greek media
reports
, firefighters are constantly finding charred bodies. The number of missing persons is on the rise, including foreign tourists who tried to flee the flames by boats. Over 100 houses and hundreds of cars have been damaged by the fire.
Faced with the spread of the wildfires, Regional Governor Rena Dourou has declared a state of emergency for the Attica region earlier on Monday, ordering communities affected by the wildfires to be evacuated. Greece has also asked for international assistance to cope with the fires near the capital. Italy, Germany, Poland and France have already offered to help battle the blaze.
"Situation in Attica has gotten out of control," Prime Minister Alexis Tsipras told reporters early on Tuesday. "We need to do everything we can because there are people in danger."