Anthony Rizzo threw two pitches to record an out in his MLB pitching debut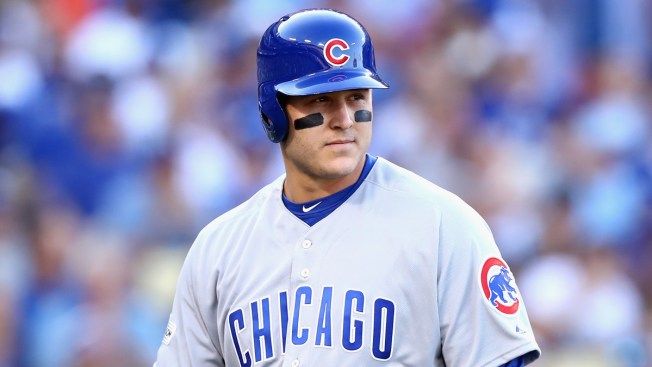 The Cubs had to go to the bullpen early in Monday night's
7-1 loss
to the D-backs at Wrigley Field. Starter
Luke Farrell
was removed in the fourth inning, and Joe Maddon used relievers
Brian Duensing
and
Randy Rosario
for the middle innings.
Catcher
Victor Caratini
-- making his
second pitching appearance
in less than a week -- was up next, but things changed in the ninth. With two outs,
A.J. Pollock
came to the plate and faced ...
Anthony Rizzo
, who was making his first career pitching appearance. As you'll see in the clip atop this post, he succeeded in finally convincing Maddon to let him toe the rubber.
And he did well! Rizzo only needed to throw two pitches, retiring Pollock on a flyout to center fielder
Ian Happ
to end the frame and his pitching debut.
And for some number-crunching:
Rizzo really can do it all.
Don't expect to see Rizzo coming in to pitch again, though:
"The end. That's it. It was awesome. I promised Joe [Maddon] I wouldn't blow out [my arm]," Rizzo added. "I've been working on that for six or seven years now with [Mike Borzello] every day during BP. It was pretty crazy standing on that mound."
And on only having to throw two pitches:
"I got to do what I wanted to do. A lot of fun and a career zero ERA now," Rizzo said after the game about his big debut.
Cubs fans enjoyed the scene -- and Rizzo got a kick out of their reaction:
"It's awesome. It's fun. You have to have fun with it. At the same time, try not to embarrass yourself too much. I'm happy A.J. [Pollock] popped that one up because he's one of the better hitters in the league."
Said Maddon: "That's it. He's got his shot, and I don't want to hear it again. He actually conceded he'll never want to pitch again. He's going for the
greatest leadoff hitter
and relief pitcher in the same season."
Adrian Garro joined MLB.com in 2016. Throughout his travels, both Bartolo Colon and Vin Scully have placed their hands on his shoulders. Not at the same time, though. That'd be amazing.